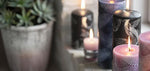 Burning candles within your home is a powerful tool to help reduce stress and promote a calming and tranquil nature within your home. A candle flame soothes your soul and increases your self-awareness. The soft illumination from the candlelight helps to calm you down and achieve a meditative state for the ultimate relaxation. 
These are just a few of the reasons Treasure House 20 believe candles would be the perfect addition to your home. Here are the 3 calming reasons for using candlelight within your home. 
Candles can improve your mood 
If you have a home that smells wonderful all the time, you may be giving yourself additional health benefits without realizing it, with scents being a powerful tool to impact the way you feel and change your mood for the better, such as our black forest diamante candle.
It is a known fact that scents can relate to a certain moment in time relating to a place or a person. Candles help to promote positive memories in your life and in turn increase your mood too.
The scent of lemon is proven to boost the immune system, regulate hormone levels and associated with happiness. Because of this, people who were diagnosed with depression that burnt a citrus-scented candle helped to lower the dosage of antidepressants the patient required. Why not purchase the citrus verbena candle to promote the citrus aroma and happiness in your life. 
Candles can increase focus 
Are you that person that loves to place candles all around the house for decorative purposes? Well, know you have an excuse that surrounding yourself with candles increases your focus and helps you to be a lot more productive. 
Our dark rum candle in black glass would give the perfect scent to your home and compliment any modern interior with its sleek black design. If you're looking for more of a statement piece, then church alter pillar candles may be a great accessory for your home. They are a simple design that would work well in any home. 
Candles can give you a more restful night sleep
In a world where technology is at the forefront of everything we do, it's crucial to take time away from our screens, particularly at bedtime. The blue light from our screen is scientifically proven to decrease our magnesium levels, making you more tired and anxious. 
To help prevent this, investing in candles and promoting a candlelit environment will make you feel calmer and promote a more restful nights sleep. Doing this will allow you to set a nightly ritual and be more mindful of your thoughts. 
Choosing candles for your home can have a number of fabulous benefits, promoting a calming and relaxing environment. When life gets a little overwhelming, light a candle and relax.  
Worry less, smile more! 
To add those finishing touches with candles to your home, find out how Treasure House 20 can help you.