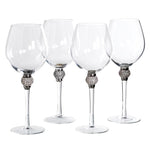 Are you looking to add some sparkle to your home?
Investing in quality diamante glassware is an essential investment for your home. Whether you need some beautiful champagne flutes, cocktail glasses or simply just some extra sparkly tumblers - Treasure House 20 will give you that extra sparkle! The embellished elements in your glassware are a beautiful decorative element, but also seen as tradition in certain parts of the world..
Why is Glassware Worth the Investment?
Glassware is used so often today as it gives an elegant dining experience no matter the occasion. They complete a setting and add intricate detailing to your home. The smallest details make the biggest difference! 
There are so many glassware options, it can be difficult to decide what to choose and you can get completely lost; However, you should focus on two main points when adding this beautiful diamante glassware to your home:
Add a few vintage or unique pieces into your glassware collection

Focus on purchasing sturdy and reliable glassware that will last the test of time
Here at Treasure House 20 we have put together the 3 reasons why quality diamante glassware is worth the investment:
Top Quality Glassware

Environmentally Friendly Properties

Decorative Statement Pieces 
Top Quality Glassware
When cared for correctly, your diamante glassware can really stand the test of time. There is no better way to celebrate a special occasion with quality Diamante Cocktail Glasses or Diamante Dining Glasses. The true 'clink' of quality ultimately makes any guest in your home feel special and makes what to you is your everyday glassware look like your finest china to your guests.
Environmentally Friendly Properties
Not only does glass protect the taste of your drinks, it is highly durable and has many environmentally friendly properties. Glass is durable when cared for correctly and stands the test of time. Glass is also rotable and lead-free making it a more sustainable and healthy option.
Decorative Statement Pieces 
There are many on-trend glassware such as clear glasses and stemless glassware for 2021. The majority of your glassware should be cohesive with a few embellishments and mismatched items. You don't want to have dozens of miss-matching pieces in your collection. When having that cheeky glass of wine on a Wednesday evening, why not do it style with some Diamante Wine Glasses or an embellished Diamante Ball Crystal Balloon Gin Glass for your pre dinner G&T. 
Do you have a signature drink that you always serve to your guests?
There's a lot of glassware options out there, so it can be extremely difficult to decide on the best statement diamante glassware for your home. With
Treasure House 20
you can rest assured that our
diamante glassware collections
will truly make a lasting impression!