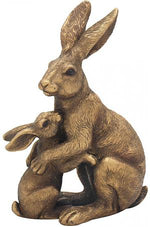 Spring has officially sprung here at Treasure House 20. The seasonal sale has launched, with reduced prices on many must have items. Easter is a time to declutter and spring clean your home, so it's the perfect time to buy some essential pieces for your collection. Adding these extra little treasures will help to accentuate your space and give your house the homely feel that every homeowner desires.
Animal Easter Statues 
The most notable animals associated with easter time are Hares. This mysterious create is a favourite statue around this time of year for artists and art collectors alike. Known for being a distinctive feature of the european countryside, they are also notable for featuring in fables and ancient tales centuries ago. This led to the bronze sitting hare symbolising status and a mythical-like standing. If you think that the hare statue would perfectly add to your home, then there is the option to have this majestic creature in a silver, or the hare and baby sculpture. Both of these hare sculptures would be a fabulous embellishment on top of your dresser, with unique and colourful MKN Knobs.
Take Home Treasures
As we move into spring and summer, and a year into a pandemic that everyone underestimated. Many people have been spending an increased amount of time at home. Therefore, they have taken on many little renovation projects within their home, due to not being able to spend money on holidaying abroad. There are many little treasures that can be added to your home, providing a novelty feel. If you wanted to add a tropical esq theme and a holiday vibe, then why not try our tahiti porcelain flamingo mug or candy bowl.- giving you ocean blues and vibrant palm trees. Following on from the flamingo theme, there's a pink and white flamingo mug and tray set, for subtle yet colourful tones.  
Egg Cups for Easter 
Egg cups are a great little trinket to add to your home - particularly if you're partial to a tasty treat of dippy eggs and soldiers. If you follow a granny chic or cottage core style within your home, then why not add our gentle rose egg cups to follow this theme? A slightly more subtle country kitchen styled egg cup could be our georgia egg cups, with a vintage style and a classic white floral design. The toughest part of any runny egg is getting the timing just right, so adding our retro egg timer will get you the perfect yolky egg every time! If you buy both the egg cups and the timer you will save additional pennies- who doesn't love a bargain!
Easter Minimalism this Spring
Are you looking for simple ornaments to add to your earthy and minimalist style home? A stylish modern home would benefit with our glass storage jars, a highly detailed jet black elephant storage jar or giraffe storage jar that is placed on the silver lid makes it really stand out. Following on from the neutral styles within your home, the rosin bamboo trinket box set gives earthy decoration in a minimalist way. The neutral tones can be placed throughout the home - particularly in the living room and provide a very relaxed atmosphere. To help reduce the clutter of magazines and papers with this space, adding a knitted magazine basket would help to organize and accentuate the minimalist design feature running throughout your home. 
It's important to fill your home with the things that make you happy and truly give home-style vibes. So, if you think that our little treasures will help to make your house a home then shop our seasonal sale today!